Are you a fashion lover and often racking your brain looking for the best fashion items for you every day before going out? Actually most ladies have such a headache that no matter how much clothing they've obtained, they still feel short of clothes to decorate their wardrobe. Why? Personally, there may be one factor that has been unnoticed——the accessories. Honestly speaking, accessories play an important part in one's overall wardrobe though they are often neglected. A good match of accessories will polish your image to some degree. Among the various accessories, eyeglasses are an indispensible component. If you still regard spectacles as merely an eye-protecting device, you may be "out". Fashion eyewear today takes an increasingly significant role in one's image building. Now just follow me and I'd show you some fabulous designs of fashion eyewear and I'm sure you can gain some hints from my introduction.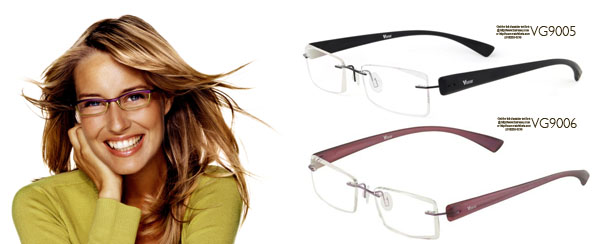 In this season, the fashion circle is still occupied by the retro vintage style. No wonder it is call "vintage". If it is not classic and impressive, how can it make such a big comeback and remain prevalent in the fashion circle which is famous for ever-change. However, the retro vintage style is not suitable for everyone. It is not easy to handle and it requires the wearer to have a relatively strong sense of fashion. Those who grasp the essence of mix-matching are likely to be at home with how to match retro vintage elements with modernish items. The option of eyeglasses is also the case. If you wanna present a vintage outlook, a pair of retro vintage glasses is a must-have for you. Choices available include cat-eye glasses, black framed glasses and round eyeglasses. In my point of view, cat eye glasses are the very design for women who are in pursuit of elegance, mystery and sexy charm. Black-framed glasses, however, are less occasional-bound. If cat-eye glasses intend to demonstrate women's feminism, black-framed glasses are inclined to bring out an unsexed effect. Both women and men can display their own personality with such glasses on. Round eyeglasses, which will arouse our memory of our great grandpa's era when the shape of glasses is quite simple and invariable, are more suitable for those who have a nostalgic complex.
According to the above introduction, I suppose you've made your own mind about which kind of fashion eyewear to purchase. Act now before your favorite style is gone!
Tags: Fashion Eyewear
Print This Post
177 views